Details

Model Number:
LK-1
Product Category:
Accessories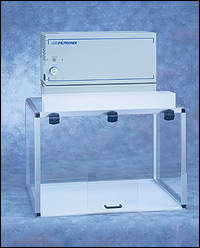 LK-1 LED Light Kit
Price:
$312.00
When natural light is inadequate we can supply a light mounted outside the enclosure. The light kit is made from white acrylic with a LED fixture mounted inside.
Dimensions: 3"H x 26"W x 4.5"D
Fits hoods 30" wide and over.
Warranty
Airfiltronix Corporation warrants its equipment to be free from defects in material and workmanship for a period of 12 months from the date of shipment.  Repair or replacement will be made at no charge at the discretion of Airfiltronix if the defect is not the result of misuse or abuse.  Airfiltronix accepts no consequential liability for delay in delivery, alleged faulty performance of the product, or any other cause
. Continue Reading