HOME ( Airfiltronix )
»
BLOG
» ductless-fume-hoods
New Arrivals at Airfiltronix
New Products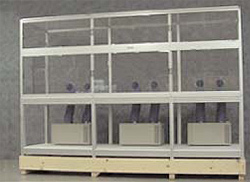 Custom Negative Pressure Fume Hood with Table for Tecan Genesis 200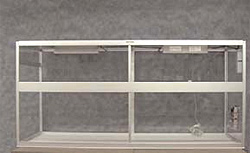 Positive Pressure "Clean Room" with electrically operated door for Tecan Genesis 200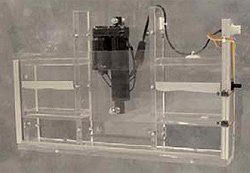 Electrically operated double door for Hereaus incubators
As the needs of our customers change we continue to find ways to improve our products to meet their needs. The latest evolution of enclosures has been inspired by the proliferation of robotic instruments used in the biotech and drug discovery industries. These instruments take up large areas of lab space and many require sterile controlled environments and increased access.
To address these issues we have made several significant changes to our enclosures. We've added a new aluminum extrusion that is extremely versatile and allows us to design considerably larger enclosures with many more options for construction style, accessories, doors, and other necessary features. Additionally we can now supply custom tables to support the entire system. These sturdy aluminum frame tables can be shipped assembled or knocked down as required.
Some applications require the movement of sensitive materials in and out of the enclosure without an unnecessary exchange of air. This can be accomplished with the addition of an electrically operated door that can be controlled by the instrument's operating program. While the improvements were inspired by a specific need, the new materials have enabled us to build larger and more versatile enclosures and tables for all applications whether positive or negative pressure is required.

The photos to the left illustrate some of these features. We welcome your inquiries for new applications and features you would like to see. Please contact our Engineering Department for further information and price quotes.

Bigger, stronger enclosures
More custom options
Custom tables for any application

Acrylic and polycarbonate standard
Specially coated and chemical resistant materials available
Stain and chemical resistant polyethylene floor

Negative pressure for fume and particle extraction
Positive pressure for Clean Room environment
No filtration with connections for an existing ventilation system

Fluorescent lighting
Germicidal Lighting
Electrically operated door
Many access door options